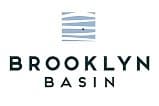 Thank you for your interest in our Brooklyn Basin project. There are many exciting things happening that we are eager to give you an update on. We acknowledge that some of the information on the project is not current. We are in the process of updating our website with new content and renderings, as well as re-launching our social media campaign on Facebook, Twitter, and Instagram.
In the meantime, here is a brief overview of what is happening at Brooklyn Basin:
-We've opened up the view to the water with the renovation of the Ninth Avenue Terminal Building and shoreline park, all of which started in June of 2017. This shoreline park will include 8 acres of public waterfront areas, at the heart of which will feature a large deck and event space for the community to enjoy. The Terminal Building will be renovated and restored to feature a variety of neighborhood serving amenities, including an expansive outdoor covered patio and seating area looking out onto the new shoreline park and the bay beyond. This shoreline park is expected to be complete in 2019 and is the first in a series of public open spaces to be built that will eventually encompass more than 30 acres.
– Our first development, Orion, broke ground in April of 2017 and will be 241 rental apartments. Leasing is expected to start in late 2018 with an expected project completion in mid 2019. More information on this project will be available in the beginning of 2018.
-Infrastructure improvements along Embarcadero are expected to be complete by the end of 2017 and will include the transformation of Embarcadero into a beautiful parkway complete with attractive landscaping, roadway improvements (with bike lanes), lighting, and safety upgrades.
The new Brooklyn Basin and Orion websites should be launching by the beginning of next year. In the interim, join us on Facebook, get short updates on Twitter and watch our visual story unfold on Instagram.
Team Brooklyn Basin
Signature Development Group
View Area Homes Near Brooklyn Basin for Sale

Sorry we are experiencing system issues. Please try again.